As a symbol of Canadian heritage and identity, few landmarks can match the emotional and inspirational gravitas of the Canadian National Vimy Memorial near Vimy, Pas-de-Calais, France. It is dedicated to the memory of Canadian Expeditionary Force members killed during the First World War. The Battle of Vimy Ridge was the first occasion in which all four divisions of the Canadian Expeditionary Force participated in a single battle as a cohesive formation, and thus became a Canadian nationalistic symbol of achievement and sacrifice.
In a vast country with diverse historical and cultural influences, common symbols such as the Vimy war memorial and Canadian flag are the glue that helps bind Canada together. It is a goal of Canada Patriot to promote both our shared national heritage, as well as the unique regional characteristics that help form the Canadian mosaic. Below are many of those historical, geographic, and cultural highlights that help define who we are.
---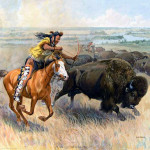 Archaeological studies and genetic analyses have indicated a human presence in the northern Yukon region from 24,500 BC, and in southern Ontario from 7500 BC.

Read More »
---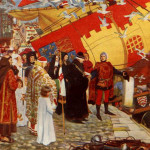 The first known attempt at European colonization began when Norsemen settled briefly at L'Anse aux Meadows in Newfoundland around 1000 AD. No known European exploration occurred again until 1497, when Italian seafarer John Cabot discovered Newfoundland's Grand Banks for England.

Read More »
---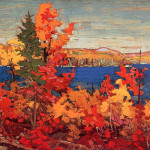 Canada's two official languages are Canadian English and Canadian French. Official bilingualism is defined in the Canadian Charter of Rights and Freedoms, the Official Languages Act, and Official Language Regulations; it is applied by the Commissioner of Official Languages.

Read More »
---